School Open House and Parent Orientation-
Monday, August 14, 2023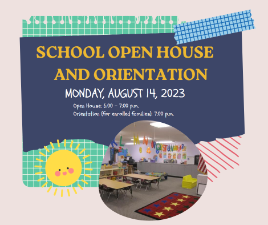 This event is for families who are already enrolled as well as those looking for preschool or prekindergarten for the upcoming school year.
OPEN HOUSE from 6:00 - 7:00 p.m. Enrolled families may attend with their student to bring in supplies, look at the classrooms, and meet other families. Prospective families may attend to tour the facility, ask questions, and enroll.
ORIENTATION at 7:00 p.m. This short session is for all enrolled families. Handbooks will be distributed with a question and answer opportunity to follow.