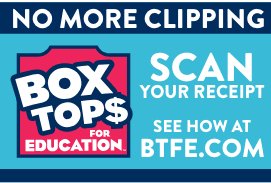 BOX TOPS FOR EDUCATION

We participate in the "Boxtops for Education" Program! Gone are the days of clipping and sorting! (Although we can still take the "old" style clips as long as they haven't expired!
Today's Box Top collection method is EASY and FREE! Simply download the app on your smartphone and scan your grocery receipts. Below are some helpful tips to get you started. If you don't want to download the app, you can always stop by the office with your receipts and we'll scan them for you!
Information about NEW Box Tops
How to scan Box Tops (YouTube video)
This is an easy way for you, and your friends and family, to support Prince of Peace!